The following are some of the equipment contained in our A2LA accredited ISO 17025 test lab:
Tenney Environmental Thermal Chamber
-73°C to 200°C, max chamber dimensions 29″W x 30″D x 36″T. Programmer/Controller for generating user-defined test cycles.
Envirotronics SH8 Environmental Thermal Chamber
-30°C to 177°C at 10% to 98% relative humidity, max chamber dimensions 23″W x 27″D x 24″T. Programmer/Controller for generating user-defined test cycles.
Torque-Tension Test Cell
Test torque-tension relationship and calculate friction factor (k factor or friction coefficient) of fasteners, finishes and bearing materials. Tension capacity from 1.5 kN to 500 kN (338-112,500 lb). Torque capacity from 1.1 N-m to 2000 N-m (10 in-lb to 1475 ft-lb ).
Micro Control MC900 with Ultrasonics
4 Channel Transient Recorder capable of measuring output of most strain gages, load cells and torque-angle transducers. Ultrasonic sensors permit direct measurement of tension in production fasteners in an actual joint. This eliminates the error of extrapolating tension from torque and angle or the changes to joint characteristics inherent in introducing load cells or force washers.
RS Technologies Hexagon SR1 Bolted Joint Analysis Software
Calculation of stress and strain for concentric and eccentrically loaded joints based on VDI 2230 calculations. Outputs include; recommended installation conditions, working conditions, factors of safety, crush of clamped members, load-extension diagram and joint drawing.
Controlled Fastening Tools
DC electric, pneumatic clutch and transducerized hand wrenches to 1,474 ft-lb (2,000 N-m). Used alone or in conjunction with torque/angle transducers and load cells for development of new joints or evaluation and troubleshooting of existing ones.
MTS Sintech Universal Test Machine
Twin ball screw, 80 kN (18,000 lb) capacity. Tensile, shear, peel and compression testing of joints.
PressMaster Hydraulic Press
30 ton (267 kN) capacity Tension and Compression with flow control. Fitted with load cell and LVDT for load vs. displacement testing to 50,000 lb (222 kN
Fuji FPD-8010E Pressure Film Digitizing System
The Fuji FPD-8010E system scans and digitizes pressure sensitive film manufactured by Fuji and marketed under the trade names Pressurex and Prescale. The accompanying software allows pressure distribution across an area or though sections to be quantified and graphed.
Epsilon Bolt Extensometer
Bolt extensometer measures overall elongation of bolts or other test specimens. Allows determination of proof loads and of load vs. elongation relationship. Standard knife-edge extensometer permits elongation measurement of specific sections within the specimen.
RS Technologies Bolt Tension Load Cell
Capacity 1.5 kN to 500 kN (338-112,500 lb). Mounted in Torque-Tension cell for testing clamp force, establishing torque-tension relationships, and determining friction factors (K, µ).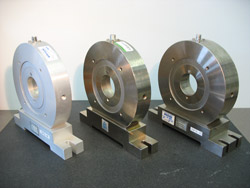 BalTec LP56 Press
Fifty-six kN (6.3 ton) straight-acting pneumatic press. With appropriate tooling, used to create joints, part features or install hardware requiring a compressive force. Fitted with a load cell and MC900, precise measurement of installation force vs. time can be utilized for joint development.
Midwest Specialties G36 FlexArm Torque Reaction Arm
For stabilizing tools during testing. Custom adapter allows infinite adjustment of spindle axis. Capacity to 800 ft-lb (1086 N-m) w/ joint clamps.
Rotary Torque/Angle Transducers
Capacity 10 in-lb to 3,000 ft-lb (1.1 – 4070 N-m) for joint testing, generally in conjunction with transient recorder.
Hydratight Sweeney Model 393B Torque Multiplier
Capacity up to 3,200 ft-lb (4,340 N-m).
Misawa Seiki Rockwell Hardness Tester
For testing material hardness on all Rockwell hardness scales.
Stereo Zoom Trinocular Boom Microscope
For inspection and photography of joints and joint sections
Sample Preparation
Capability to fabricate joint components: Saw, Mill, Drill, Tap, Shear, Grind, Polish.